Discover more from Moments
sharing moments of connection in nature and everyday life
Some of my favorite moments happen when nature just spontaneously becomes abstract, all on its own. And this particular moment was one of my biggest photography surprises, actually, because all that is happening in this photo is that winter morning light is striking stripes of frost formed on our cabin's wood siding.
Hard to believe, right?
On a clear winter morning, the sun comes up low and slow over the evergreen forest, slanting golden in individual rays escaping through heavy boughs until it gradually clears the treetops into full blue skies. And the morning frost that blankets the landscape is naturally ephemeral, crystallizing onto all kinds of surfaces in infinitely-varied and sometimes-unexpected ways, then evaporating at the touch of sunlight.
So it was a very fleeting moment when I peeked outside one morning to realize that our house was covered in a thick layer of frost, running in vertical stripes along our weathered wood siding, with the sun's rays rapidly climbing through the dappled forest. I was a bit staggered by the shocking beauty of such a simple scene, and quickly grabbed my camera and pressed myself as close as possible against the side of the house.
I focused on one glittering stripe of frost after another, clicking away until the sun cleared the trees, the frost transitioned to droplets and streamed away, and the exhilarating moment had passed into a delightful memory!
It's fascinating, because now I will always look for this moment…and though there will often be similar conditions, they will rarely fully repeat…and when they do, I may not happen to be right there…So I may actually never witness a moment quite like this one ever again!
---
shop custom prints: Line of Sight, Shimmer, Glitter, Diamond Dust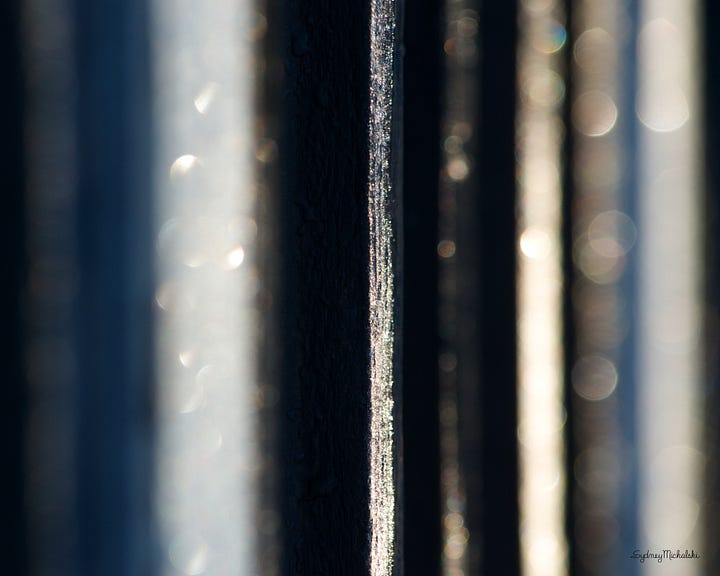 ---
If you like what you see, visit my online gallery for custom-print wall art and decor, and bring some moments of connection home to your everyday life!
---
This Substack is free! Join me behind-the-scenes each week as I share the stories behind my nature photography gallery, capturing moments of connection in nature and everyday life.
Know anyone else who enjoys nature, photography, connection, and stories?
---
Enjoy bringing the outside in? Come visit us at Riven Joiner & the Homestead Store for hand-crafted, nature-inspired Artisan Soaps, Woodworking & Home Goods.
hand-crafted. from the homestead. original designs | natural materials | small batches