Discover more from Moments
sharing moments of connection in nature and everyday life
Just Published! Sea Glass Portraits
a coffee-table-style book of portraits & poetry celebrating sea glass, tiny treasure of sea and shore
One last bonus newsletter, to share a little exciting news - I just published Sea Glass Portraits, now available on Amazon in paperback and eBook!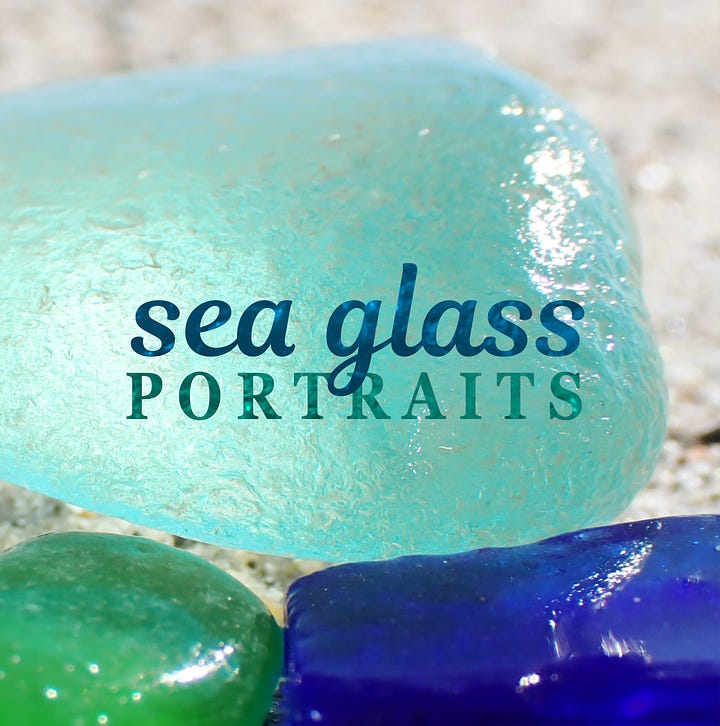 Sea glass holds a special place in my heart. It's such a richly layered allegory for life on earth. Broken, lost or cast aside…Tumbled around and knocked about for what might have seemed an eternity…But then delivered by circumstances beyond control out into the warm sunshine and fresh air, at last!
I am an avid beach-comber. I can't help myself. I spend lots of time admiring the wide horizons and lapping waves, contemplating the edges where land meets sea and sea meets sky…
But once I start walking, those little square-inches of sand around my footsteps absorb all my attention. They're always offering up surprising new wonders! Teeny shells, colorful pebbles, shimmery egg cases that make you believe in fairy tales…But sea glass is top of the list! I not only can't help collecting it, I also can't help photographing it :)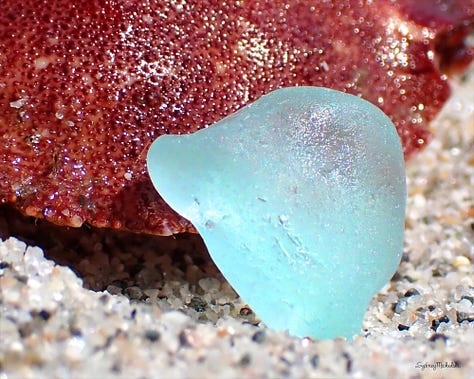 Each piece is unique. Each has travelled its own weary road shrouded in depths and mystery. And so each deserves to be celebrated in its new circumstances, to be featured in its new light!
At first, I simply created a Sea Glass Collection in my gallery to group them all together. But then the captivating metaphor of sea glass set fragments of poetry into motion, whirring and tumbling about in my thoughts.
Their fortunes made
By gravity,
Now tangled up,
Now falling free,
Surrendered to the restless sea.
I realized that the best way to celebrate Sea Glass, and the best way to share it, was to gather it into a tangible collection. A place to slowly muse over each piece, to slowly contemplate the way each story might reflect our own. Something that could be left out on a coffee table or propped up on a nightstand or carried out to the beach for a light read.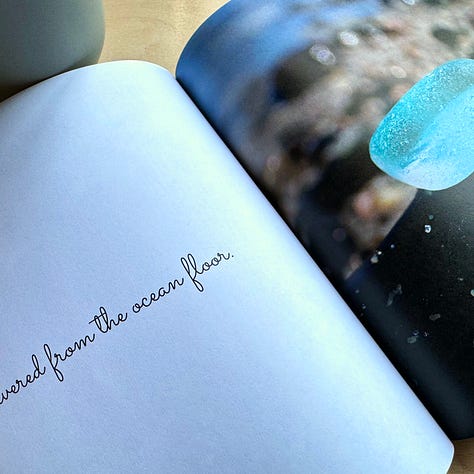 A physical prompt to serve as a reminder of the hope that is the shining legacy of every bit of sea glass - broken and forgotten, perhaps; tumbled around and knocked about, certainly; but polished and refined and remade, emerging triumphant to the admiration of all!
A place of honor to remind
the broken and the left behind
that we will yet emerge refined,
a treasure for the world to find.
For the friend who insatiably collects sea glass like I do, for the loved one who adores a beach-y life metaphor, for your morning quiet time so you can start your day remembering just what a gem you really are - I hope Sea Glass Portraits will be just right for you or someone you know!
---
If you like what you see, visit my online gallery for custom-print wall art and decor, and bring some moments of connection home to your everyday life!
Know anyone else who enjoys nature, photography, connection, and stories?
This Substack is free! Join me behind-the-scenes each week as I share the stories behind my nature photography gallery, capturing moments of connection in nature and everyday life. Paid subscriptions are available if you'd like to sponsor my work - I'm so grateful for your support!
Enjoy bringing the outside in? Come visit us at Riven Joiner & the Homestead Store for hand-crafted, nature-inspired Artisan Soaps, Woodworking & Home Goods.
hand-crafted. from the homestead. original designs | natural materials | small batches