Discover more from Moments
sharing moments of connection in nature and everyday life
It doesn't have to be a sunny summer day to enjoy the shore! Here on the Maine coast, summers are fleeting, but the coast is always lovely. Dressed warmly, and geared up with rainboots, we meandered out into an overcast early spring day at low tide.
Sandy River Beach, Jonesport, is one of our favorite local beaches - low tide exposes a great stretch of rocky tide pools and a sandbar that crosses over to a small island. There is always so much to explore! My three kids range far ahead, pushing aside seaweed and turning over stones, calling back their finds. "Look! A rock gunnel!" "Come here, quick, starfish! Anemones!" "Whoa, a limpet!"
"A hermit crab! Another hermit crab!" My daughter held up two adorable little hermit crabs nestled in periwinkle shells. I oohed and aaahed and giggled and took pictures as the two tiny crabs waved tiny claws at each other. Were they friends? Were they foes?
Suddenly, one crab reached out and grabbed hold of his neighbor, who quickly retreated. My daughter and I gasped and laughed, and that is the particular moment that you see captured here.
And then - this feisty crab proceeded to haul himself entirely out of his shell! There he was, dangling crab-naked from his neighbor's home! He swayed there for one hilariously breathless moment before he dropped into the welcoming depths of the waiting tide pool and scurried away.
We nearly died laughing. We placed the naked crab's empty shell near his hiding place in the tide pool, returned his neighbor to a nearby location, and ran to share the story with the rest of the family. Sometimes, the moment you capture is best because it's a reminder of the moment that came after!
---
shop custom prints: Neighbors; Tiny World; Making Waves; Prickly; Pretty in Pink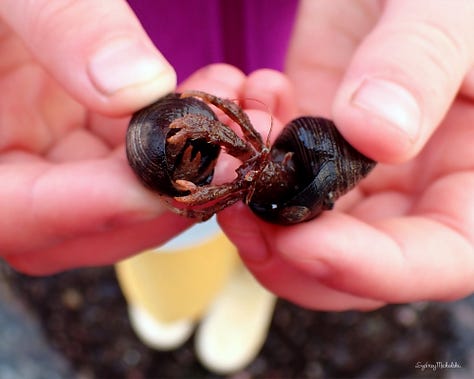 ---
If you like what you see, visit my online gallery for custom-print wall art and decor, and bring some moments of connection home to your everyday life!
---
This Substack is free! Join me behind-the-scenes each week as I share the stories behind my nature photography gallery, capturing moments of connection in nature and everyday life.
Know anyone else who enjoys nature, photography, connection, and stories?
---
Enjoy bringing the outside in? Come visit us at Riven Joiner & the Homestead Store for hand-crafted, nature-inspired Artisan Soaps, Woodworking & Home Goods.
hand-crafted. from the homestead. original designs | natural materials | small batches